How to Know if You Need a Pulse Oximeter and How to Use It
Posted by cyren2 chengzheng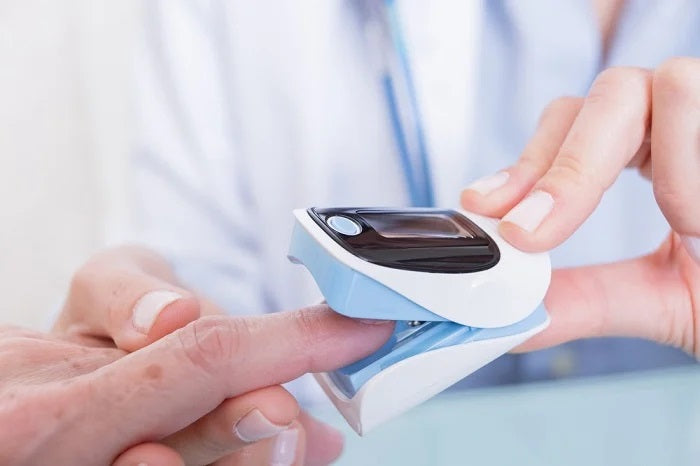 Pulse oximeters­ — small, clip-on devices that measure your blood oxygen level — have been popping up a lot lately, on the news and social media.
Find out what they do and why there's a spotlight on them, and what the experts have to say about using them with COVID-19.
What Are Pulse Oximeters, Exactly?
Pulse oximetry measures the oxygen saturation of the blood, according to Johns Hopkins Medicine. In other words, it checks how well oxygen is being sent around your body.
Your oxygen saturation level, per the American Thoracic Society, is a percentage of how much oxygen your blood is currently carrying compared to the maximum it can actually carry.
A pulse oximeter is a small device that clips to either your finger, ear lobe or toe, and it does the painless measuring with a small infrared light. It can tell a health care provider if you're in need of oxygen. Not getting enough oxygen into your system — a condition called hypoxia — could injure your heart, brain and other organs, according to the Food & Drug Administration.
What's a Normal Pulse Oximeter Reading?

"A normal pulse oximeter reading (SpO2) should be at least 95 percent," says

 

Avisheh Forouzesh, MD, board-certified infectious disease specialist at Advanced Infectious Disease Medical in Hoboken, New Jersey. "Some patients with certain medical conditions such as COPD may have low baseline pulse oximeter levels, such as 90 percent."If you get a reading that's low for you, it's best to contact your doctor.
Are Pulse Oximeters Accurate?
Oximeters are thought to be reasonably accurate, says William Schaffner, MD, professor of infectious disease at Vanderbilt University School of Medicine in Nashville, Tennessee.
Most devices will give a reading within 2 percent accuracy. So, for instance, if your oxygen saturation reads 92 percent, it may be anywhere in the 90 to 94 percent range.

A few things may affect the accuracy of your reading, though, according to the American Thoracic Society. These include:
Cold hands or poor circulation
Nail polish or artificial nails
Very dark skin
Smoking
Having oxygen saturation levels below 80 percent
"Bright light directly on the pulse oximeter can also affect the readings," says Eva M. Carmona Porquera, MD, PhD, pulmonologist at the Mayo Clinic. "If you can, bring it to the doctor's office and have it compared with their medical-grade oximeter readings."
Who Needs a Pulse Oximeter?
This device, according Johns Hopkins Medicine, is necessary for various situations:
During or after surgery or sedation
To check if lung medications are working
To determine if an individual can handle increased physical activity
To see if a ventilator is needed
To assess a person with sleep apnea
It's also needed for at-home use for those who have experienced:
Heart attack
Heart failure
Chronic obstructive pulmonary disease (COPD)
Lung cancer
Asthma
Pneumonia
Can They Diagnose COVID-19?
Many people with COVID-19 have low oxygen levels, according to the Minnesota Department of Health — even when they're feeling well. So, there's been talk that a pulse oximeter might help detect or monitor the virus. LIVESTRONG.com asked some experts to weigh in.

COVID-19 can cause a form of lung disease that interferes with gas exchange, Dr. Schaffner says. "You can feel pretty well, but if you took an X-ray of your lungs or measured your oxygen concentration, there could be much more disease than you were experiencing."

That's why doctors began to think measuring oxygen concentration would be helpful in monitoring people with COVID-19. And a pulse oximeter allows for that without the person being in a hospital.

"You record what the readings are twice a day, and if they start to drop, then call the doctor," Dr. Schaffner says. "What it catches is not so much the disease itself — what we want to know is if you're starting to downturn."

Dr. Forouzesh stresses that a pulse oximeter is not meant to diagnose COVID-19
"If you have symptoms of COVID-19 or exposure to COVID-19, your best response is to get tested and notify a doctor," she says. "If you're diagnosed with COVID-19, a pulse oximeter can be helpful in monitoring your blood oxygen level, and depending on the number, determining if you need medical care."

A pulse oximeter level alone, however, isn't enough to know how sick you are, she says.

"For example, some patients have good pulse oximeter readings but feel very sick and some patients feel well but have very low oxygen levels (happy hypoxia)."